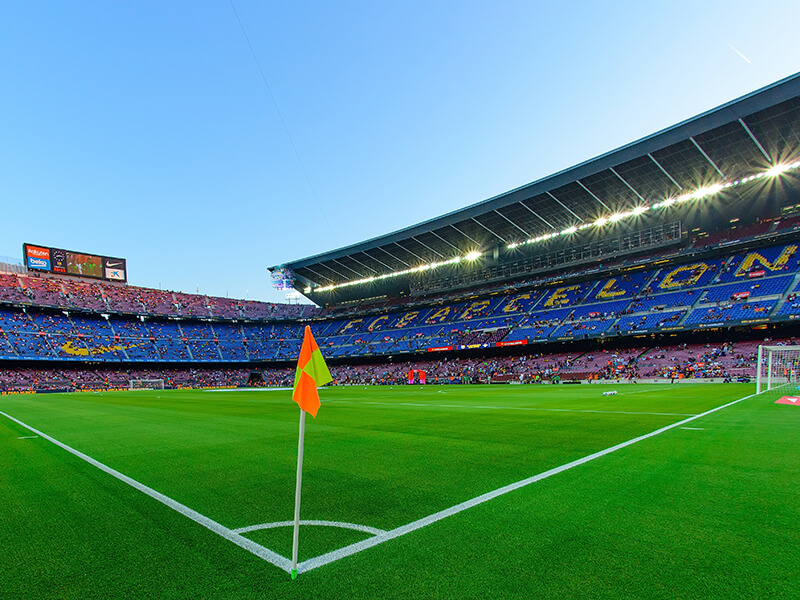 This new season of LaLiga Santander will be again, at least for the time being, a competition marked by restrictions on access to stadiums and that is why more than ever, watching LaLiga on television will become the main option for many fans to follow soccer from home. If you are one of those who do not want to miss the LaLiga Santander matches live, then find out here where to watch the Spanish League on TV or via Streaming.
How to watch LaLiga on TV?
Once again this season, Gol TV repeats as free-to-air soccer and sports channel on DTT. This channel offers one free match per day, which can be watched by tuning in to the channel on television or through Gol's website.
You can access this channel completely for free and although the teams that play each day's match always vary, there are no matches involving FC Barcelona, Real Madrid, or teams playing in European competitions.
How to watch soccer on Movistar+?
So if this deal doesn't suit our needs and what we are looking for is a channel where we can watch all the LaLiga matches (or almost all of them), Movistar+ offers 9 of the 10 matches of each day, always one involving Real Madrid or Barcelona.
In order to watch LaLiga Santander matches live on Movistar+ we must be subscribed to a Movistar package containing "Movistar LaLiga": Fusión Selección with LaLiga, Fusión Selección Plus with Fútbol and Fusión Total Plus.
Watching soccer on Movistar+ offers practical functionalities such as being able to activate the channel on any of our devices or use the live control to replay any play whenever we choose, return to the beginning of the match or return to the live broadcast whenever we want.
What can I watch on Orange TV?
Another network that offers LaLiga on television is Orange TV, which after reaching an agreement with Telefónica, owner in Spain of the television broadcasting rights of the main soccer competitions, invites its customers to enjoy every week of soccer, the 10 matches that are played every day, including all Real Madrid and FC Barcelona matches in 4K resolution.
In this case, to watch LaLiga on Orange TV we must be subscribed to one of the three Orange packages that include soccer: Love Total, Love Total Plus, or Love Total Plus 4.
How to watch LaLiga via streaming?
If due to location, mobility, or any other reason we prefer to watch LaLiga via streaming instead of on TV, we also have several options at our disposal.
As we said before, Movistar+ offers the possibility of watching soccer on your devices, wherever and whenever you want, even from abroad.
To access the service, you only need to have a Fusión package that includes soccer, activate your user, and access Movistar+ with your passwords on any of the compatible devices connected to the Internet (former Yomvi service).
Thus, as long as we are subscribed to a package that includes the match, we will be able to watch it on all our devices, including the Smart TV. And if we are away from home we will be able to do it on smartphones, computers, and tablets.
Where to watch the Spanish League from the United States and Canada?
All LaLiga matches in the United States are broadcast live on ESPN+, the subscription-based sports platform owned by Walt Disney Direct-to-Consumer & International, which offers live streaming coverage and on-demand replays of LaLiga Santander matches.
ESPN+ has broadcast rights to the Spanish league for eight seasons in the United States and also in Canada, where it offers full coverage of LaLiga matches to Canadian viewers through TSN.ca, RDS.ca, and the TSN and RDS apps.
In addition, watching the Spanish Premier League in Latin America is possible through ESPN 2 in most countries and through some platforms such as Fox Sports Web or Now Net and Claro in Brazil.
Content updated at 2023-06-16
Browse the Internet safely and securely
Private Internet Access Plan for 3 years + 2 months free
PIA, the VPN that offers you online privacy and anonymity at a low price. Interested? Read on!
Money back guarantee
30 days
Servers & Countries
35000+ servers in 78 countries
NordVPN Plan for 2 years
The importance of browsing securely and with a robust and fast connection to multiple devices at the same time, read it here!
Money back guarantee
30 days
Servers & Countries
5308+ servers in 60 countries
Surfshark VPN Plan for 2 years
If you want to enjoy digital freedom and anonymity, read on!
Money back guarantee
30 days
Servers & Countries
3200+ servers in 65 countries
Devices per License
Unlimited
Ivacy VPN Plan for 5 years
A good VPN allows you to browse the Internet securely, calmly, and privately, find out more here!
Money back guarantee
30 days
Servers & Locations
3500+ servers in 100 locations
Related content
Other contents of interest